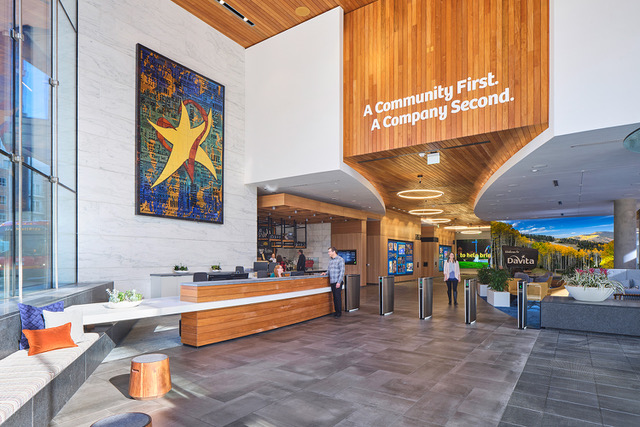 Aug 29, 2019
A Year Ago: The Largest Enamel Art Ever
It's hard to believe it's been a year since we designed and installed the largest indoor enamel artwork. Now, we say it's the largest, because we can't find record of a bigger one. Last year, DaVita commissioned a giant enamel artwork of their company's star and heart, with writings from their company motto and culture surrounding its edges.
For months, we labored over the design, structure, size, and process of creating this work. Designing the "Heart of DaVita" required commissioning a custom-built "Mega Kiln" to fuse mosaic-style enamel pieces, that were then assembled into rectangular patterns to create the nine foot by 14 foot, 600lb. enamel giant. It was an incredible adventure. It took eight humans to move the piece out of the studio and into the truck, where we drove carefully all the way from Atlanta to Denver.
Installing the piece took two days, in part because we worked around construction crews assembling the gorgeous lobby of DaVita's brand new headquarters. Once we finished, the "Heart of DaVita" captured every eye. Today, the work hangs at the entrance, within view of passersby, shimmering through the windows and showing visitors what the company stands for as a community. We are so honored to have partnered with DaVita, and look forward to our next boundary-stretching project! Cheers to one year!